Fox Point Location Instructors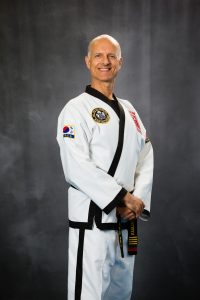 Mr. Jeff Gendelman
Mr. Gendelman, a Kukkiwon certified Tae Kwon Do Master Instructor, began studying martial arts over 40 years ago. He has trained in New York City, Minneapolis, Milwaukee, Chicago, San Francisco, Los Angeles, Montreal, and Japan and holds advanced ranks in four different styles. Since 2003, he has devoted himself to Grand Master J.K. Lee's incomparable Tae Kwon Do curriculum. Mr. Gendelman's life experience, teaching credentials and years of instructing children and adults make him uniquely qualified to bring out the best in people.
He is a graduate of both the University of Minnesota and Outward Bound Survival School.  He is also a certified instructor in the award-winning Safety Kids program, a certified Verbal Defense instructor, an approved instructor through the Archdiocese of Milwaukee, and has received self-defense instructor certification from Master Police Instructor Dave Young.  Mr. Gendelman, along with Master Chan Lee, founded the nonprofit J.K. Lee City Youth Martial Arts Program (CYMAP), which brings the character enriching benefits of martial arts to youth in underserved areas around Milwaukee, WI.  Mr. Gendelman has been a guest lecturer at many high schools, colleges and universities, including USC, University of Tampa, St. John Fisher College, and Marquette University. He is a regular lecturer at the University of Wisconsin, Milwaukee for the credited Tae Kwon Do program.
Additionally, Mr. Gendelman was a team leader for the black-belts-only Ultimate Black Belt Test, a demanding and uplifting 13-month test developed by Master Tom Callos, and has earned many trophies at tournaments, including Grand Champion at the Midwest Tournament of Champions. Recently, Mr. Gendelman wrote and produced the inspiring drama, The Surface, filmed entirely in the Milwaukee area, starring Sean Astin and Chris Mulkey. The film took Mr. Gendelman 18 years of perseverance and indomitable spirit to bring to the screen. As a result of this extraordinary accomplishment, Master Chan Lee brought him to the attention of the TED Talk committee. Mr. Gendelman's TEDx talk titled, The Martial Art of Making a Motion Picture – an 18 Year Test of Perseverance and Indomitable Spirit, was given at Marquette University.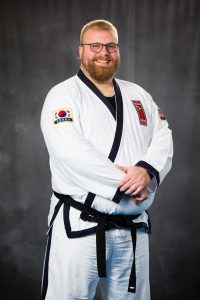 Mr. Paul Hein
Mr. Hein began studying Tae Kwon Do in 1990 when he was 10 years old and started teaching in January of 2000. After studying education, Mr. Hein became a full-time instructor at J.K. Lee Black Belt Academy. He has managed all the J.K. Lee locations and is one of the most knowledgeable instructors on staff.
Mr. Hein spends his free time playing the trumpet, volunteering at area art camps and working with youth through mentoring programs. He participated in the 2009 National Hanmadang Championships.

Instructor Mary Palmisano
Instructor Palmisano is a second degree black belt who has been teaching martial arts full-time for many years. Students of all ages enjoy her grasp of curriculum and intelligent sensibility. She began studying martial arts with J.K. Lee Black Belt Academy with her children over seven years ago. She graduated with honors from Baldwin-Wallace College, with a double major in history and political science. She was awarded an Ohio Board of Regents fellowship and then attended The Ohio State University College of Law.
She is a former criminal/juvenile defense attorney. Mrs. Palmisano is the Executive Director of J.K. Lee City Youth Martial Arts, a 501(c)(3) nonprofit organization, that brings the benefits of martial arts to youth and families in underserved neighborhoods. She completed the "Ultimate Black Belt Test" and competed in the Hamnadang National Tournament.